About the Author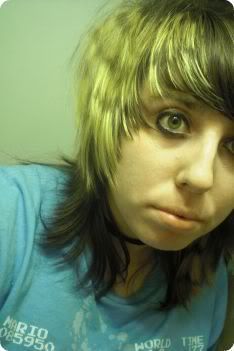 Nick-Name: Usagi
Age: 17
Birthday: October 19, 1991
Likes: Drawing, Yaoi, my boyfriend <3, cats, playing the cello, rock music
Dislikes: Meat, homophobes, american style rap music
Favourite Bands: Apocalyptica, Ayumi Hamasaki, Meg & Dia, Coheed and Cambria, Tegan and Sara, Paramore, In This Moment, to name a few.

FAQ
What was the inspiration to start drawing VV?
Well, it started from looking at a very old page of one of my friend's vampire comics. It just kinda sparked my interst...vampires...yes. Then I watched Van Helsing shortly after that...it all came to me!
When did you start VV?
I'm pretty sure it was late September 2006. Then the ideas for the story just kept on piling up...
When did you start liking Shounen-ai and yaoi?
Well, it kinda started in my 8th grade year(2004-2005) when I bough Gravitation volume 1. I kinda liked it. Then summer 2006, I REALLY started getting into it. I created 2 characters (Joey and Stewart) who I just wanted to experiment with...and then shounen-ai just kinda took over my life! :D
How long do you think VV will be?
Probably over 150 pages, or more. There's a lot (and I mean LOT) of the story that I haven't drawn yet. I'm way too ahead of myself...
Do you have any other manga works?
Heart : Sanctuary is now dead, but I have another comic brewing up in my head. It's a horror story~ (but no BL, sorry)
Do you have a deviantART account?
Yes, I do! I'm KagomeLovesInu. Here's a sample of my gallery!